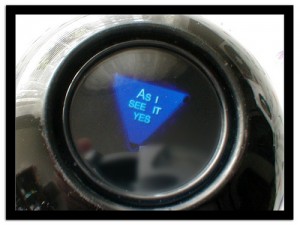 It's that time of year where the pundits predict the death of brands, the trends of new media and the upcoming changes in marketing.  I typically avoid these kinds of posts, but I wanted to weigh in primarily because part of my role at Rosetta next year will be to execute against the predictions.  This is going to be a fun year.
My one primary thought about social media in 2010: Social Media Gets Smarter.  We're already seeing evidence of companies using social media more strategically. eMarketer's recent post highlights a shift in budget and a growing movement of how companies are leveraging social media in a smarter way.  I see social media becoming as sophisticated as more traditional CRM and marketing tactics.  I love studies like this one from comScore and GroupM that demonstrate the effect of social media on paid search results (50% increase in CTR on branded paid search for people who had exposure to a brand in social media – that is compelling alone).
The good folks over at Trendspotting have also assembled a list of quick, "Twitter-sized" tidbits on predicting changes in social media in 2010.  I am thrilled to be included in their list alongside some excellent predictions from folks who have inspired me in the last few years, including Chris Brogan, David Armano, Paul Gillin, Jason Falls and David Meerman Scott.  Marketing Hot Seat contributor Marc Meyer is also included.
Here are my predictions that show up in the presentation.  I'd highly suggest the read – Trendspotter did a great job keeping the content in an easily digestible format.
Social media tactics become integrated tools in the relationship marketing arsenal.
Companies struggle adapting processes for customer interaction in marketing, sales, customer service & PR.
Marketing programs focus more on activating brand advocates than general customers.
Social media monitoring industry consolidates and matures, drawing closer to web analytics.
Each of these probably warrant a post on their own.  I based my predictions on day to day what I am experiencing in terms of client demand in the social media space, but it's one digital agency view.  What do you think?
Photo credit: greeblie via Flickr