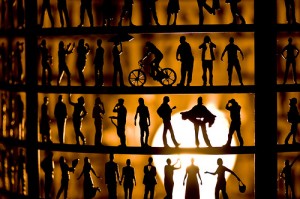 Twitter is all the rage.  CNN talks about it at every opportunity.  Famous people from Shaquille O'Neal to MCHammer to Demi Moore are using it to share snippets of their daily lives.  Legions of new joiners are popping up each day.  Books are being published left and right about Twitter for business and monetizing Twitter accounts (some questionable, others focusing on the community in microsharing – the most anticipated one I'm looking forward to is Laura Fitton's (aka Pistachio) Twitter for Dummies).  Blog posts about Twitter are profilic.  Yep, I'm full of irony by adding to the mix – and there are some that would probably say what is happening now is a third or even fourth coming of Twitter.
Observations
I've been on Twitter for a year and a half and here are some observations about what has changed, for better or worse:
Spammers have become more advanced, using bots, auto-follow/un-follows, and other nefarious ways to collect followers.
Gone are the days of "Twitter Karma" where we all try to maintain equilibrium of follower to following ratios.  Now it's more focused on how we can be useful or interesting to each other.
People are very caught up in numbers – of followers, of retweets, of conversations.  New tools continue to crop up to grade your twitter participation, experience and influence.
The more followers you have, the more reliant you become on solid third party tools like Tweetdeck and Tweetworks to manage groups and connections that are most important. Tags and search capability are key functions in day to day use.
Twitter is no longer solely for the early adopter tech crowd or the social media consulting/services crowd. It's clearly a useful platform for lawyers, real estate agents, graphic artists, moms, dads, sports fans, you name it.
The coverage of Twitter use in traditional media, like the evening news on TV, to me seems like hunting and pecking for needles in a haystack.  It can be devoid of metrics or real analysis, using it more like finding a funny tweet and showing it to the audience.  It reminds me of the Chris Farley show on SNL.  ("Do you remember that?…That was AWESOME.")
The echo chamber of people on Twitter talking about Twitter has grown louder, stronger and more frequent, which can be good and bad.  It's good for educating folks on what tweetups are, how to use hashtags to help track conversations, which 3rd party apps are great for desktop and iPhone use.  It's also good when businesses are leveraging the platform to connect with customers and resolve or acknowledge challenges.  It's bad when people presume to know about someone's intentions or preach too strongly about how to use Twitter.
Back to the Basics
With all of the hype, there are many who forget or neglect what I would describe as some basic guidelines on Twitter.  I am by no means an authority but am sharing my thoughts as a long time (in technology terms, anyway) user, and I would welcome your suggestions and input.
Twitter is for conversations.  Find people who like to talk about topics you're interested in, connect and participate.
It's a great tool for sharing useful or fun information.
Sure, Twitter can be a promotion vehicle, but spend less than 10% of your time on Twitter promoting your own wares (hat tip to Chris Brogan who mentions this approach often).  Would you go into a large networking event and start shouting?  How successful would it be?
I try to look at all of the numbers and measurements of grading one's Twitter use with a grain of salt – they can be indicators of intent, suggestions and guides on what to do differently, and in some cases show influence, but in the same regard do you keep measure of offline conversations with friends, families and coworkers?  I don't, especially not to decimal points.  I like to check out the tools but I don't get too caught up in them.
Twitter enables meaningful connections, but they are not a given.  Building relationships, just like meeting new people at a conference, party or event, takes time, patience and sincere interest in connecting with other people.
Twitter represents a way to build relationships, find useful information, gain access to expertise and connect.  Here is a representation (definitely a subset) of many folks who I have met through Twitter and others who I hope to meet but follow because they share something useful and meaningful – they are real people.  (Twitter Mosaic courtesy of sxoop.com, get your own here).
Have you been on Twitter for a long time?  If so, how have you seen the community and use evolve?  If you're new to Twitter, what brought you to the platform and what do you think so far?
Photo credit: left-hand via Flickr