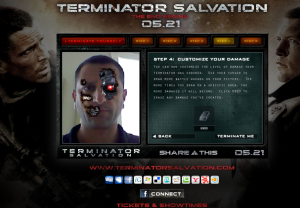 Two recent movie promotional campaigns do a great job combining the storyline, user photos and content (not to mention the ability to share that content easily on networks like Facebook).  They're fun, easy to use and engage the user in more than just an online impression.  Has this become the new standard for interactive marketing?
First, the site Terminate Yourself (http://www.terminateyourself.com) promotes the new Terminator Salvation coming out on May 21.  The site allows you to upload a picture (or take one via webcam on the spot, which I think is the best part) and then customize the "damage" to yield a photo.  Simple, effective, and potentially viral.  What is intriguing is a lack of big corporate sponsorship, unlike the Star Trek Counterpart.
Star Trek's marketing team partners with Cheez-It to deliver Trek Yourself (http://www.trekyourself.com).  While more feature rich, it can take time to load and process making it slightly more cumbersome.  After uploading a picture, you select a character, a soundbite (custom text allowed, which is pretty slick), and a background, and you've got a moving, living image you can embed anywhere.  I'd say this site is much more robust than the first example, but both are good at accomplishing promotional goals and leveraging user generated content to drive results.
As an agency, we've done work on these campaigns in the past (most recently for client Nationwide on the Sanjaya-ize Me site).  They can be fun, effective ways of engaging people online and can have at least a good shot of creating viral success.  I think the Simpsons site is still the best example out there though.  What do you think?  Have any other good examples that get the concept right? (For those reading via feed, please click through to see the example).