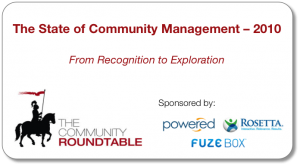 Over the last couple of years I've been fortunate to get to know the founders of the Community Roundtable well. Jim Storer and Rachel Happe are two talented community practitioners with tons of experience. When Jim told me about his idea for TheCR (as it's known in short), I was intrigued from day one. While there are many social media practitioners, blogs and community platform companies to leverage out there, TheCR provides at least two unique differentiators as part of its value proposition:
The Community Roundtable is a peer network of social media practioners and community managers. In essence, TheCR is using community to enhance and better people and businesses who are practicing community management every day. This isn't social media or community 101, it's 501. It's a network for people who practice the discipline daily.
The Community Roundtable is pushing the envelope to advance the field. With their background in organizational design, TheCR team has built a framework of business processes to apply to various stages of community lifecycle. This isn't (only) for selling community into an organization, it's aimed at best practices at sustaining and growing them. TheCR is the answer to the question, "You have a community. Now what?"
As companies look at branded and non-branded, public and private, enterprise and customer-facing community platforms and decisions, TheCR provides a highly concentrated armament of resources and network of peers for support. Rosetta, my agency has been a partner from early on due to the complement to our own value proposition, and as Rachel describes it, I'm a self-professed "Cheesehead."
So it's not a surprise that Rosetta is pleased to be a sponsor, along with Fuzebox and Powered (another Rosetta partner), of The Community Roundtable's first annual State of Community Management 2010 report. This 60+ page report, with an introduction from Altimeter Group's Jeremiah Owyang, is a tremendous resource that combines the voice of participating members representing "over 180+ years of community management experience" and what the group learned in 2009. It's an asset to anyone exploring starting or improving their community initatives in 2010.