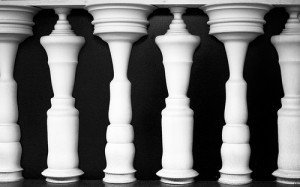 According to Wikipedia, Serendipity "is the effect by which one accidentally stumbles upon something fortunate, especially while looking for something entirely unrelated."  I've found that since engaging on several different social media tools like Twitter, that has happened a lot more often.  How about you?  "Return on serendipity" really makes no sense – how can you plan to get a return on something that happens by accident?
Last week I attended the Social Business Summit, hosted by the Dachis Group in Austin, TX just before the SXSW Interactive conference.  One of the speakers was John Hagel. John is the co-chair of a Silicon Valley research center for Deloitte.  One quote stood out for me, and it applies to both individuals and businesses:
You can increase the opportunity to achieve serendipity.  What's your serendipity strategy?
You can put yourself out there.  Businesses can establish outposts in social channels, build and foster relationships, and have a presence where customers expect them to be.  With the growth of social media tools, and their resulting impact on other digital channels, this will give you more opportunities for people to find you.
Last fall, GroupM and Comscore announced the results of a compelling study on the correlation between social media and paid search.  One highlight for me hits home for the digital marketer:
The study…showed a 50 percent click-through-rate (CTR) increase in paid search when sonsumers were exposed to influenced social media and paid search.  This revealed consumers exposed to social media are more likely to click on a brand's paid search ad as compared to those exposed to the brand's paid search alone.
To me, that's hard evidence that building a footprint increases the likelihood of serendipity – consumers will find you, perhaps when they were not expecting to.  The term "return on serendipity" may be a non sequitor, but there are signs of real, tangible return on making opportunities more likely to happen.   Have other examples?  I'd love to hear them.
Update: After a little discussion on Twitter I was alerted to this great post by Rachel Happe: 5 Ways to Orchestrate Serendipity.  Worth the read.
Photo credit: shashachu via flickr
Related articles by Zemanta