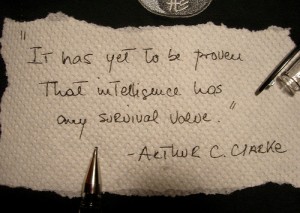 When the topic of Twitter comes up with colleagues, I often hear the "I don't get it" excuse.  Sometimes I fight the good fight and show someone a demo (and the small community I have connected with always responds – thanks for the support, gang).  Other times I cave and just quip, "Well, Twitter is not for everyone," and I let people try to figure it out for themselves.  A client I met with today actually thanked me for introducing him to Twitter months ago, citing the timely news (usually on Twitter before many other sources) and content from some really smart people out there.  He admittedly wasn't that intrigued at first.  On Twitter, many folks share personal details like what's for dinner, how much they love caffeine or the occasional banter about the Red Sox.  These conversations help us get to know contacts more personally, but can at times be perceived as noise.  On the flip side, I often find new tidbits of knowledge, a valuable link, a good story – and they make the time spent that much more worth it.
Tonight I took a peek at what was going on and happened to catch a very insightful gem of a conversation between two folks who have helped me work my way up the social media learning curve over the past several months. Scott Monty (@ScottMonty) heads up the social media team at Ford, and Christopher Penn (@cspenn) is Chief Media Officer at the Student Loan Network (among his many other social media credentials).  Here's what you get when you take a passionate finance guy and put him in a virtual room with a passionate brand guy.  (Note: I reversed the order of the conversation from how it appeared on Twitter so it would read sequentially like a transcript.)
cspenn: @scottmonty How much of GM/Ford troubles are UAW related vs. core business expenses?
ScottMonty: @cspenn Let's be clear: Ford's situation isn't nearly as precarious as GM's. We're prepared to execute our plan with or without Federal $
cspenn: @ScottMonty OK. That said, do the Detroit shops have a bigger handicap due to UAW than the Japanese shops?
ScottMonty: @cspenn 2) Recent big quarterly hits have been related in part to one-time healthcare costs.
cspenn: @ScottMonty serious question, why isn't bankruptcy on the table for GM? Is it that essential to America that tax dollars must be risked?
ScottMonty: @cspenn 3) Lack of unions in some of our competitors make it difficult for us to be profitable on some vehicle lines
ScottMonty: 4) But overall, we've been working on restructuring our product mix and flexible manufacturing over the last 2 years that is now under way.
ScottMonty: 5) The goal is to have best in class fuel economy in every segment, give millions of customers affordable fuel economy.
cspenn: @ScottMonty Interesting and insightful. Is there any way for Detroit to free itself from unions or is that baked in forever?
ScottMonty: @cspenn Re your union question: I don't know. It's had a long history in Detroit (and Ford was the last to join).
ScottMonty: @cspenn Bankruptcy for GM would mean thousands of suppliers/vendors would be at risk. Cascading effect would be immense (and take us down)
cspenn: @ScottMonty what source would you recommend for reading to dig more into a GM bankruptcy? Would love to see the chain.
ScottMonty: @cspenn There's a good graphic that illustrates it in a recent Merrill Lynch report on the auto industry (Nov 3, "The 'Big Bang' Theory")
cspenn: @ScottMonty Cool – link? or not publicly available?
ScottMonty: @cspenn Not publicly available. I can fax you the page if you want.
cspenn: @ScottMonty That'd be wonderful. 206-350-1208 thanks! (also the podcast comment line!)
cspenn: @ScottMonty Only upside I can see is if in bankruptcy, GM and others can jettison the union for improved survivability.
ScottMonty: @cspenn I hear you. Don't know if that would ever fly, though.
cspenn: @ScottMonty sometimes, it's fly or die. maybe they'll get that NO one is entitled to anything you don't work for one day.
Thanks to Scott and Christopher for the great and candid dialogue, giving personal insight to a big corporation's challenges in the current economy.  Have some other ways Twitter has added value for you?  Would love to hear 'em.
Photo credit: gi via flickr