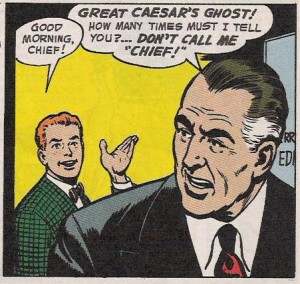 In late October, I got a first hand glimpse into how the web is taking on traditional newspapers.  While in Dallas for Forrester's Consumer Forum, I was grateful to be invited to drop in at the offices of the Dallas Morning News to talk about how retailers are using Facebook.
A Somber Scene
At first glance, the floor where most of the reporters sit is very much like the stereotypical movie sets.  I expected Perry White (Jackie Cooper, in my head, anyways) to come screaming out of his office at any moment.  The major differences:  PCs everywhere instead of typewriters, and most of the desks were empty.  I visited them on a Monday – the prior Friday they had been through a series of layoffs, and the mood was somber.  As the paper takes on challenges brought on by Web 2.0 and the shift of advertising online, ironically a blog solely for former employeers of the paper cropped up and has some very passionate people engaged. 
Challenges for Traditional Newspapers
Three major challenges for the paper are apparent.  First, the cost of advertising.  Simply put, ads cost a lot less and are far more measurable online.  This directly competes with ad revenue for the paper, and was a deciding factor in the recent Chapter 11 filing at the holding company that owns the Chicago Tribune and LA Times.
The second challenge is the proliferation of other media sources.  I heard the phrases "reading blogs" and "did you see the blog post" several times.  The lines between traditional media and new media are blurring and anyone who can publish a story could conceivably trump a reporter at a paper.  Clearly reporters are paying attention.  The lines are blurring between official reporters and passionate folks who like to write.
A third challenge for newspapers is really understanding the digital channel.  I've seen recent discussion on Twitter with Bryan Person and Aaron Strout around how newspapers don't understand search engine optimization (SEO).  Both have pointed out examples of articles in Boston papers where the authors failed to include links in the online version of the story to either personal blogs or corporate web sites.  "Sharing the link love" is a key piece of making the digital channel successful and accessible through search. 
Understanding a Slice of New Media
The main purpose of my visit was to discuss my agency's recent study on retailers using Facebook.  Several big name retailers, including J.C. Penney, are in the Dallas area, and the retail reporter for DMN was trying to get a better understanding of Facebook and other tools.  I spent a couple of hours with her explaining how Facebook works and gave her a demo of Twitter (thanks to many connections there for helping out).  It was clearly an eye opening experience for her, and we reviewed what several local-based retailers were doing with Facebook fan pages.  The net result, including much of her hard work looking at viral marketing, interviewing a variety of sources and adding insight to what the companies are doing, is this well-written piece published Tuesday called, "Retailers find Facebook friends in hopes of finding sales."  No doubt the folks who are reporters are talented in their research and writing – she did an excellent job tying in the recent viral successes of J.C. Penney and Victoria Secret's Pink brand to our discussion on retailers using Facebook pages.
Clearly the Dallas Morning News is getting the digital channel – the page where my article lives had (as of my last view) advertisements for Ford, Cars.com and Netflix.  The article also had the ability to share via social bookmarking sites and allowed comments.  Unfortunately the article had no link here or to our agency's site, Rosetta.com.  But 2 out of 3 ain't bad right?
In the end this was a real world microcosm example of how the old media industry needs to adapt in order to thrive.  Thanks again DMN for including me in the article and I hope we both continue to learn from the experience.
Photo via IMDB.com