I always like to capture ideas and campaigns here that really catch my eye and provide inspiration.  Here are two banner ads that challenge the notion that this industry has nothing left in it.  They show that the right mix of creativity, humor and humility for the knowledge an end-user has about the space can create a vibrant ad.  Most importantly: they engage better than, well any other banner ad I've seen.  I'd imagine, like me, anyone in the interactive marketing industry would look at both these and say, "I wish I'd thought of that."
Pringles
First up is an ad from Pringles. I couldn't click just once. (OK, I know that's a headnod to the Lay's campaign, but it's for potato chips too).  I heard about it via AdFreak – key quote:
I appreciate that it isn't flashing horrible circus colors and promising me a free Xbox or a spyware-laden "virus scan."
It's actually quite funny, and no surprise it recently won awards.  The one here is embedded – you can click right here and no I don't get any referrals for your clicks.
Volkswagen
The second ad was covered in Adweek's TweetFreak a couple weeks ago.  This ad for Volkswagen integrates Twitter directly in the ad, scanning recent tweets for terms used and then recommending a car that is right for you.  This one is not embedded – click through to a page where you can put in a Twitter ID to see the results.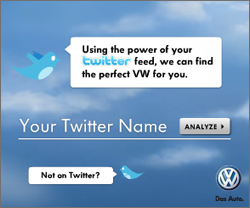 Of course I like the idea of integrating Twitter in a creative way – it's trailblazing with new platforms and technologies – but I would be curious to see some of the metrics around both of these campaigns.  Any others that strike you as compelling or inspirational?
Bonus: An Offline Ad Can Inspire Too
Proving that technology, location and creativity can create a compelling mix, here's another Cannes Lion award winner that could inspire loads of guerilla marketing ideas – imagine what Times Square could be like in New York City if all of the ads responded to what happened in front of them.  Hat tip to copyranter and @dschutzsmith for sharing.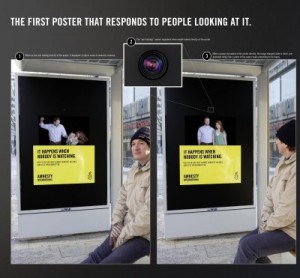 UPDATE: For a lot more insight on the Pringles ad (not to mention some very useful resources on Pharma and social media) directly from the source agency that created the ad, see the post "What Pharma Can Learn from Pringles" from Jonathan Richman.