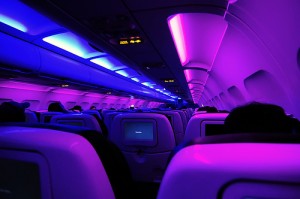 OK, this is one of those "you won't believe me until you try it" moments. (For some it's a "I'm not surprised, welcome to the club" moment).  I had a client presentation opportunity come up in Los Angeles and dreaded booking the 6 hour flight from Boston. VirginAmerica to the rescue.  On top of a relatively cheap fare and no line at Logan airport in Boston, the following points demonstrate VirginAmerica's smart response to business travelers:
Fast and reliable wifi ($12.95 for a day, but worth every penny to be connected).
AC power outlet in seats.
Movies and TV on demand in your seat.  I was able to pause a movie to finish a chat over IM.
Food and drink orderable via your seat kiosk.
Headphone jack that fits the normal headsets everyone carries.
The opening video on safety started with "for the .001% of you who have never operated a seatbelt before, it works like this…" – full of humor (it's a cartoon) but still appropriate.  I can't think of the last time I paid attention to these videos.
Courteous employees left and right.
Because of these things I was able to write this post from 35,000 feet, somewhere over Kansas I think.  I was also able to keep up with work email, catch up to Ken Burbary via Google Chat, follow the MarketingProfs B2B conference on Twitter, book a future flight and hotel room with my travel agent, check in on the Rosetta Yammer network and watch Gran Torino.  It's a good news/bad news about being able to stay connected – either way I made very productive use of the time.
The bottom line: What a great experience.  No, I'm not on their payroll, but whoever is designing this airline probably worked at Zappos.  I fly just about every week on at least two flights, and this would make a substantial difference if I could have these amenities all of the time.  Flown them yet?  Have one better?  I'd love to hear about it.
Last quick story: During the flight I was on Twitter and read this article shared by a few people about using Twitter and Facebook to find a job, and noticed the primary person interviewed was Rosetta's own Brian Ward.  While I was somewhere over Pennsylvania I was able to get a hold of him and let him know the article ran, so he found out through Twitter with an assist from VirginAmerica.  Sweet.
Did I mention VirginAmerica is on Twitter?  They are listening and responding too.
UPDATE: Here is the inflight video I mentioned (thanks to the comments below).  Tell me it's not memorable – 275K+ views on YouTube?
Photo credit: joits via flickr