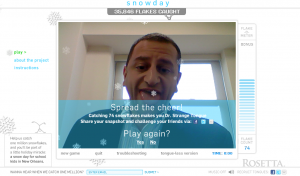 What do augmented reality, snowdays and New Orleans have in common?  A Happy Holidays card and helping to spread some joy from Rosetta.
Every year agencies of all types like to show their stuff with digital holiday cards.  Looking to raise the bar from last year, the Rosetta team is trying something new.  Our team took their passion for technology, social media and working for a good cause to dream up something fun – and we hope people find it to be a "different taste" from the usual agency card.  Grab your webcam and see what I mean.
What's more joyful than catching snowflakes on your tongue?  If we catch a million snowflakes, on February 20, 2010, we'll be in New Orleans providing some joy to local children at City Park: a snow day.  Read more at the card site, and I look forward to sharing stories of the joy from that event in a couple months.  Have a happy and healthy holiday season.
Note: We'll be watching usage and looking to fix or upgrade features – would love your input on what we could improve.
UPDATE: The WSJ covered our holiday card today ("Stop Licking Your Monitor," 12/15/2009).  My favorite quote is about "on-tongue recognition technology" from Rosetta partner Toni Hess.