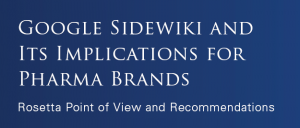 Google Sidewiki is a perplexing new product from our friends in Mountain View, CA.  Sidewiki requires a toolbar download but enables anyone to comment along side any website.  Here are three key posts that have been helpful to understand it – and I'd highly recommend reading them.
As people try to sort out what this all means, Rosetta's Search & Media group teamed up with our Healthcare practice to create a quick point of view and some recommended actions.  You can download the PDF here:
Google Sidewiki and Implications for Pharma Brands: Rosetta's POV
What would you do? This has applications outside of pharma – would this be helpful to your organization?  We hope to keep the document up to date with more information, but in an industry that is highly regulated it's important to act quickly.
UPDATE: Rosetta's Chris Boggs also published some thoughts today on Search Engine Watch, providing more discussion about the implications of Sidewiki for SEO.
ANOTHER UPDATE: I'm grateful to AdAge for publishing my first post there – Big Pharma and Google Sidewiki: A Sink or Swim Situation? – Please let me know what you think.  Thanks to Rosetta partner Jason Whitney and Search manager Ian Orekondy for helping with the content.
UPDATE: I've heard some feedback about issues downloading the PDF from Rosetta.com – so I am attaching the document here for posterity.  Please reach out to me with any concerns.