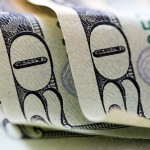 Alternate payment methods (APM), in eCommerce terms, are ways to complete a transaction without using the normal credit card authorization process.  For the past couple of years Rosetta has completed a quick study of a hundred leading online retailers using the big players in this space.  Paypal, BillMeLater, and Google Checkout are the ones we have measured mostly due to marketshare in the large online retailer category.  New services and startups continue to crop up, as evidenced by the buzz related to Chris Brogan's sponsored post around the new service eBillMe.
The major play for each of these payment methods is the additional uptick in conversion – the premise that providing alternate ways to pay will reduce people from abandoning their shopping carts and more broadly appeal to those worried about giving their credit card to a website.  Our study shows that both Paypal and BillMeLater have gained retailer adoption in the last 18 months.  Google Checkout appears to have maintained ground at the same relative group.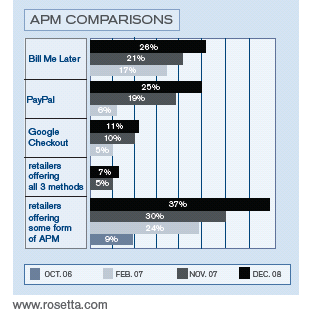 The list of retailers surveyed is the same list from our recent study on Facebook.  While not scientific, it shows us some trends in the marketplace.  The major points of the APM study this round are that the growth rate is continuing among retailers, and Google Checkout is stagnating.  Two major questions have come up:
Why is Google Checkout not keeping pace?
Why are other big name retailers still sitting on the sidelines?
Google Checkout recently dropped their incentive program for AdWords customers, but retailers aren't typically quick to respond.  BillMeLater was recently acquired by eBay from Amazon, who also owns Paypal.   I wonder if the ROI is really there, despite low cost to implement these programs.
What I am more interested in is hearing from you.  Do any of the online sites you shop at regularly offer these methods?  Do you use them, or would they influence your buying decision?  Why or why not?  Our study was picked by DM News and Storefrontbacktalk.com (thanks!) but I'd love to hear what people use and why.
Photo credit:  nicmcphee via Flickr