Every once in awhile I stumble across a great example of interactive marketing to share.  Today a friend shot me a link to a microsite from the consumer product brand Healthy Choice, that has a lot of the right ingredients for a successful campaign.  The campaign looks like it was launched last fall but I think it will have a long shelf life.  Here are some reasons why I like the campaign.
Comedy is good. The central theme around the microsite is a daily comedy improv show.  The actors are funny, regular people loosely resembling the successful TV show the Office.  They depict characters debating various agenda topics during a lunch meeting.  Quality comedic content can make a site more engaging, more viral and keeping people searching the site for more.  The site's show had daily updates for several weeks when it was launched, for a "season."  It appears Season 2 ended in November. With agenda topics such as, "What Not to Do at Work," "Dealing with Flatulence,"and "Reuse Staples."  This "best of" show from November 25th is a great example.
Consumers engage and direct the content. You can submit meeting agenda topics, vote on future meeting topics, and send a "care package" to a friend who has been in too many meetings.  You can subscribe to reminders about the next meeting, browse through many archived shows and read through dozens of humorous articles.
Product endorsement is pervasive but not overbearing. Healthy Choice could just have easily made a microsite about nutrition and product information.  Instead they chose a humorous platform and work the product placement in without diluting the quality comedy content.  When you "send a care package" you can share episodes with friends via email but there also is an option to send a Healthy Choice product coupon.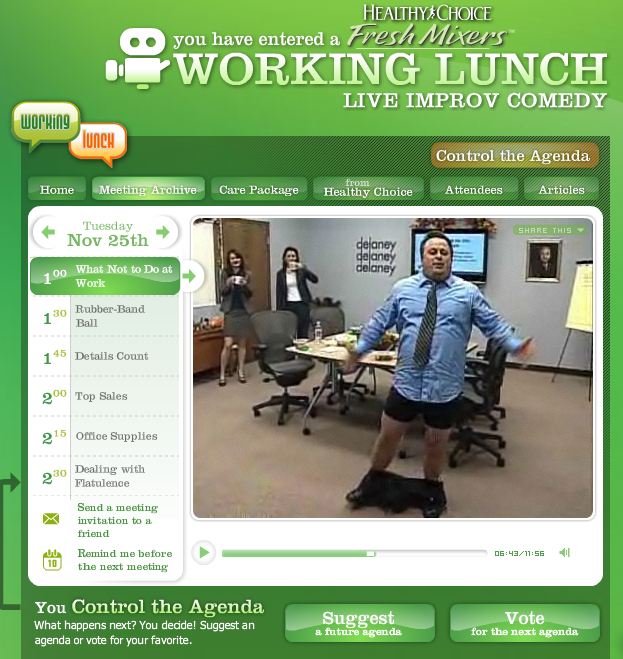 I'm curious what the cost was to produce the show, site and content, and what the overall ROI would be for a site like this versus an ad campaign in a magazine.  No question I spent more time on this site than reading an ad and that Healthy Choice will have ample metrics to measure consumption of the content.  Well done, Healthy Choice.  Do you think this type of microsite works?  What are some examples of others you have seen and liked?